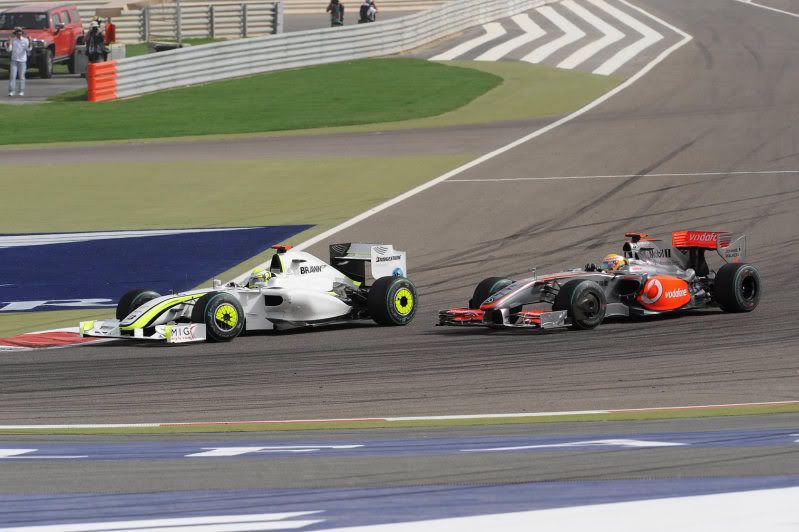 The Bahrain GP got off to one of the most exciting starts I can remember. There was passing, jostling, and more passing. Drivers jockeyed for position over the first couple of laps, highlighted by Jenson Button and Lewis Hamilton trading 3rd place a few times. For a few moments, it looked like were going to witness a race for the ages – then it got as bland as the desert backdrop.
It's still refreshing to see Ferrari struggle and a new team dominate, as Brawn is doing by winning three of the first four races. But please allow me to indulge on getting a little something off my chest. Fuck You Bahrain. Fuck you and your desert track with 50,000 spectators being preferred for its petro-dollars over Montreal's lush scenery and feverish fans. Fuck you for painting cutesy little colours onto the SAND that lines the track. You're not fooling anyone. Buffalo N.Y., Joan Rivers and the Bahrain Grand Prix: three things you cannot "pretty up", no matter how much money you throw at it. Fuck you Bahrain.
I really have nothing against Bahrain and its desert. I'm just bitter about Montreal having its F1 race revoked after 44 of the past 46 years because of unpaid ransom demands by Bernie the Pirate, only to be replaced by locales that have no F1 tradition or even much interest. Sometimes I cannot contain it. As Zach de la Rocha once so eloquently put it: "I'll give you a dose but it could never come close to the rage built up inside of me".
Congrats to Jenson Button, Sebastian Vettel and Jarno Trulli on their podium finishes. Word is that Ferrari will be upgrading their car significantly for the next race, two weeks from now in Barcelona. Can't wait to see if they can pull it off. It will also be a great opportunity to wish Fernando Alonso as little luck as possible on his home track (Lola is going to go apeshit when she reads that last part).